Would you like to join our Team? Builder/Carpenter for Window Installations, Laborer, Joiner and Joinery Apprentice wanted
-
read more ...
Alfresco Areas Access: Bi-fold Doors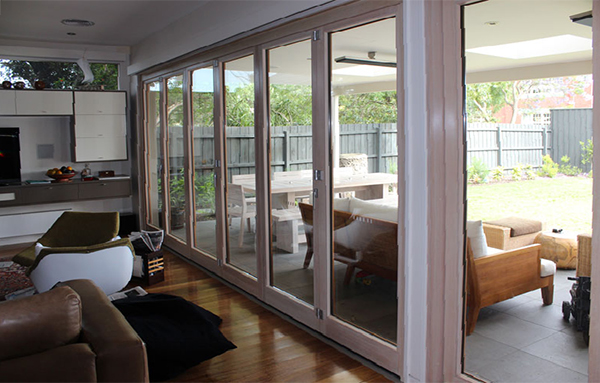 Access to the BBQ area, trampoline or vegie patch - what better way than to have bi-fold doors that fold away to reveal a wide opening leading into the great outdoors. Perfect for entertaining, when groups of people are migrating between the rooms of your home and the alfresco area. And perfect when the doors are open on quieter days, the breeze can enter along with the gentle outside noises, and the backyard feels like an extension of the home.
As every home is unique, there are many different configurations available to choose from. Keep in mind that our bi-fold doors are custom made, and the dimensions of each door can be up to 2.8m high and 10m wide. Our new recessed threshold gives step free access and a clean look to your design.
Paarhammer bi-fold doors are available with double or triple glazing and are designed to provide superior thermal values and noise control through double rebated frames and rubber seals. Designed to provide superior energy savings of up to 84% with up to 7.5 WERS energy stars and a low U-value from 1.1, as well as sound protection of up to 45dB, through double rebated frames, unique rubber seals and multiple locking points. Our products are available in a variety of timbers from sustainably grown forests in a finish of your choice.
Bi-fold doors can be made to open to the outside or inside. On inside opening bi-fold doors, the first (everyday) door can also tilt for ventilation. The hardware fittings have several locking pins all around each door, and are all operated with one handle - no shoot bolts necessary. By locking the door into the frame, this enables energy saved through double or triple glazing to not be lost through a draughty frame.
No rattling, and no shoot-bolts, and operating the doors is a breeze - just turn the handle on every second door. And to keep out bugs, retractable flyscreens are also available.
Imagine a 10m wide triple glazed bi-fold door that locks tight, provides security, as well as extremely high energy efficiency.
Information on a variety of DOORS, including bi-fold doors, and availability in different Ranges.