Hardware - no longer just a hinge and a lock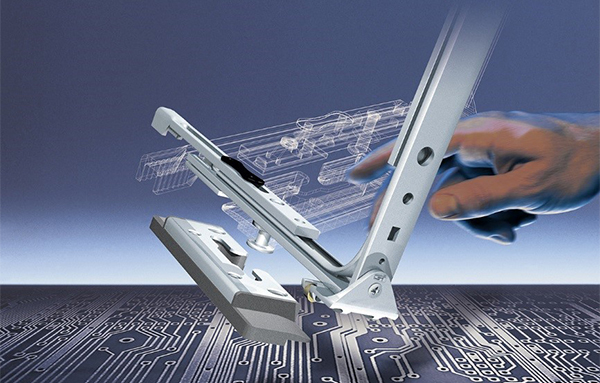 The quality of window and door products is enhanced by hardware which seals against the elements, making the products easy to operate, while at the same time discouraging burglars.
The tilt andturn hardware fittings feature the flexibility of two opening positions. The sash will swing inward - casement style - when opened in the turn position. Alternatively, hinges at the bottom and a tilting arm at the top allow it to open inward at the top like a hopper window (tilt). Both actions are activated by the turn of the handle, a smooth operation which controls all the mechanics within the frame.
The hardware around the window has several locking pins all around, which lock the sash into the frame to provide multi-point metal-to-metal security locking. This means that the energy saved through double or triple glazing is not lost through a draughty frame.
There are great benefits with the tilt and turn operation. Ample fresh air can pass into the room in the tilt position. This position also acts as a safety precaution that prevents small children from climbing through the window, and with an optional child safety lock makes it compliant with the new Building Code. The fully opened inward turn position makes life easy when cleaning windows.
In the early 90's, Paarhammer chose the well-known German brand Siegenia-Aubi as their hardware supplier. Siegenia-Aubi is now more than 100 years old, developed into an internationally renowned company and continues with its passion to create high-quality hardware for windows and doors.
In addition to employing the latest energy saving technologies that achieve massive savings of up to 85%, Paarhammer windows can also deliver a high noise reduction. Contact us to discuss your window and door needs.